Inspired by spring mood and upcoming Easter period, we want to make a gift for everyone intending to purchase PVC windows and doors of exclusive colours. We offer to choose out of 8 brand new colours A+ or A++ class windows and/or doors till Easter (04.22) and pay only a standard colour price. We supplement our colour palette with 8 state of the art colours in Europe such as ginger oak and exotic wood coating ideally repeating natural textures.
Note: The fashionable colours add up to more than 10 % comparing to standard palette colours.
This is an exclusive opportunity to order PVC windows and doors of SPECIAL, PREMIUM or PREMIUM PLUS colours for a lower price!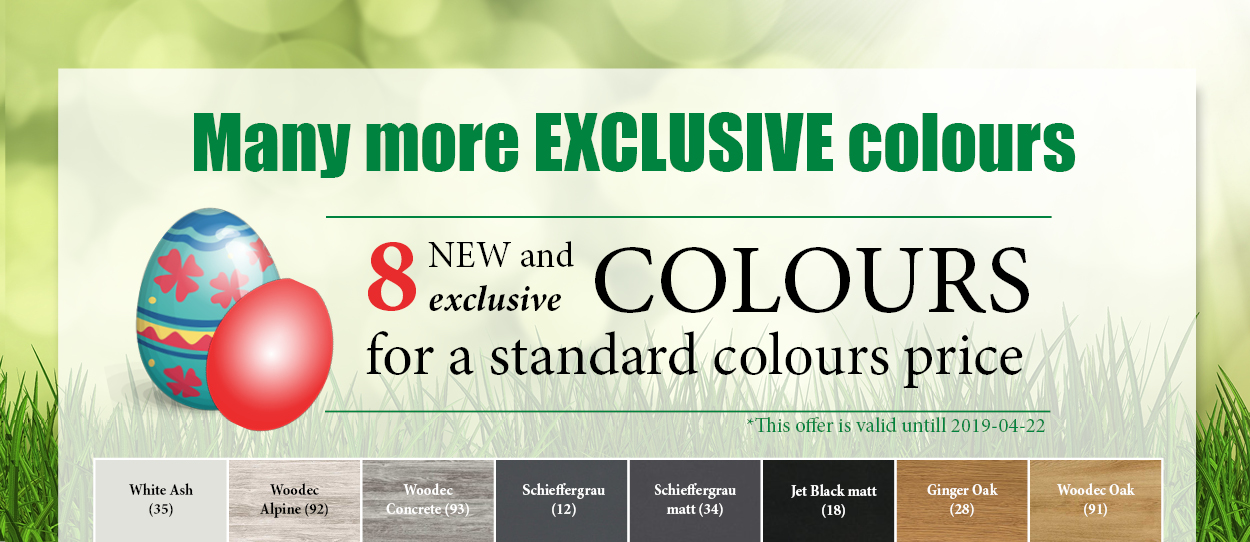 Who can take an advantage of the offer?
All Lithuanians, citizens from foreign countries and companies, who build residential housings.
What do I need to take an advantage of the offer?
When I can't benefit from the offer?
If the listed conditions are not satisfied,
If ordered windows and/or doors of different sides are in different colours,
If preferred PVC constructions are with term isolated plates and/or decorative door panels and/or not glazed.
For further information, please contact our export managers -> https://www.aveplast.eu/contacts/