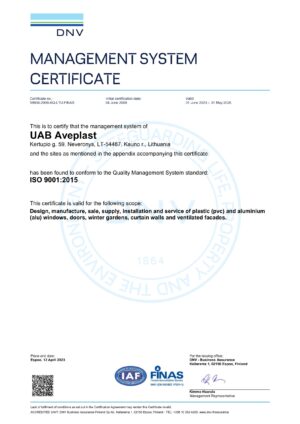 "Aveplast" JSC operates according to the requirements of quality management system ISO9001, and it is the only window manufacturing company in Lithuania, which has been certified all of its processes: plastic and aluminum window and door design, manufacture, sales, supply, installation and services.
The main "Aveplast" JSC principles of quality system implementation:
◆ Absolute pursuit for fulfillment of the all commitments and the fastest services for customers;
◆ To manufacture and deliver as much as possible the highest quality products by using the highest quality materials and advanced systems;
◆ Statement of good work organization in all company's chains;
◆ Education of personal responsibility for the results of the work;
◆Periodic analysis of quality management system effectiveness and its improvement.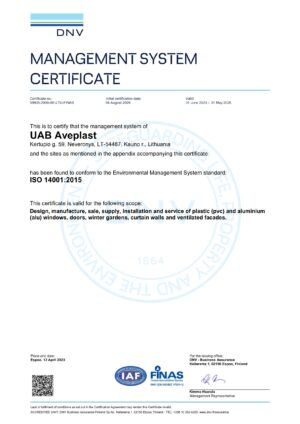 "Aveplast" JSC cares not only about the quality that customers get. We feel that our windows can be our engagement to save environment. That is why we care about environmentaly friendly behavior.
"Aveplast" JSC is indifferent to environmental problems. Company operates according to the requirements of environment management system ISO14001. All of these processes have been certified: recycling, package accounting, fire safety instructions.
Aveplast"JSC always seek for the highest customer satisfaction, so company constantly monitors its processes and improve them regularly. Each "Aveplast" JSC employee is responsible for quality of the carried work and services they provide, therefore only checked the quality production are marked by "Aveplast" brand.
>>Click here<< to find full environmental protection policy

Do you have any questions about quality?

You can also contact us : info@aveplast.lt , +370 656 93835