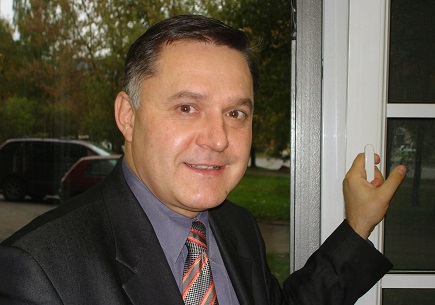 The CEO of "Aveplast" JSC is Vilius Eidukevičius. Our CEO showed us a great example how to work in innovative way, behave and communicate with clients. Respect and honesty are values that we keep in company since 1995.
V.Eidukevičius has visited the most modern plastic window factories in Europe. He gained a lot of windows manufacturing secrets not only by observing the production process, but participating in it also. Vilius knows every detail of the production of plastic and aluminum windows and doors and always plan his visits to specialized exhibitions and foreign manufactories to keep up with date knowledge.
Our CEO learned how to keep German meticulousness and Polish entrepreneurship and used the information to create "Aveplast" JSC. Because this reason true values and optimized manufacturing system is a result of experience which foreigners have developed for decades.
The highest value Vilius Eidukevičius – the word compliance. Therefore, company always refers to its customers not abstract terms, but the exact order of performance dates.