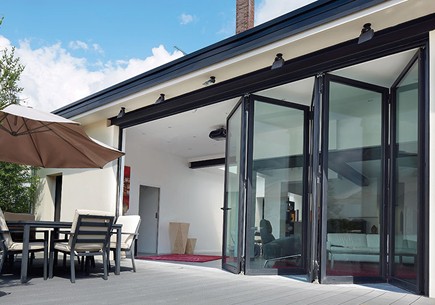 Folding doors are popular and well appreciated products by our customers.
Folding doors have several advantages:
◆ Large-area can be glazed by one construction;
◆ Folding doors are very convenient to use;
◆ Folding doors are compact constructions.
Folding doors are convenient in the small premises. These doors can be used for opening a large area of glazing and as the entrance door when one or few parts of the construction are opened. Folding doors are manufactured from "Reynaers Aluminium" system CF 77.
–
CF 77 folding doors – high insulation, maximal transparency and aestetics
Concept Folding® 77 combines high insulation and comfort with maximal transparency and aesthetics. The constructions of this system is compact construction with a minimum of space usage. There are many different opening types, both inward and outward.
–
We invite to see some of "Aveplast" fulfilled objects.
Please contact "Aveplast" manager for further information. We are always ready to consult and help!