Even bite of the simple mosquito can cause serious health problems. The skin, edged by mosquitoes bite, often cause inconvenience. The best long-term way to protect home from insects is getting an insect screen. Our parents and grandparents already used various grids for such protection, but they were blatant, massive, light stopping and inconvenient to use. Thanks to modern technologies, "Aveplast" for it's costumers can offer protective nets, which are made from long-term and resistant to environmental effects materials – aluminum profiles and glass fiber texture. Mosquito nets produced according German company SKS – Stakusit technology are thin, so it is almost invisible and do not obscure the room.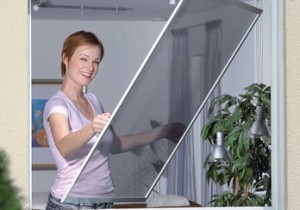 For Your convenience, "Aveplast" produces three types of nets:
1. "Mosquito" insect screens with aluminum frame are stationary type, designed for windows. These protective insect screens is very popular because of its very attractive price and simple exploitation. Mosquito" insect screens are easily inserted to the skylight of window, so they are almost invisible. 2. "Profilia" is an inpatient type and designed for windows. This is an aluminum frame with a stretched glass fiber net in it. Frame mounted on special holders outside the window. It is easy to remove because of the handles on the window frame.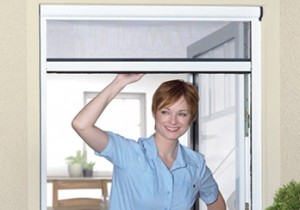 3. "SKS Genius" is a rolled-type net for both windows and doors. Model GENIUS 354 is designed for the windows (net can be rolled to the top). Model GENIUS 357 is designed for the doors (grid can be rolled to the side). Spring actuator, which is acting in the vertical direction on the windows and horizontal direction on the door, roll up the grid in to aluminum tape. Special mechanical clamps (354), or tape magnetsperform tape recording of net stretch.
Mosquito net benefits:
– Easily installed;- Comfortable to use;- Aesthetic look;- Protect from direct sunlight;- Fire-resistant.
Product colors: white or brown. Nets are adapted individually, according to your window measurements.
Please contact "Aveplast" manager for further information. We are always ready to consult and help!