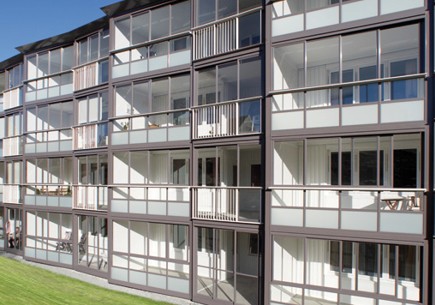 Balcony glazing with aluminum constructions is a combination of comfort, cosines and elegance for those which seek expanding their dwelling space fast and in minimal costs. Glazed frames are pushed horizontally, what is very comfortable as space of balcony is not being reduced this way. Window frames effectively dismiss water, has good ventilation, and their maintenance is especially easy and simple. ALU2 and ALU3 aluminum constructions, which are easily adjustable not only for newly build but already exploited houses balcony, are used for this comfortable and modern balcony glazing.
ALU2 balcony glazing system – this is two rails window construction which can have one, two, three or four openable window parts. System frame profiles depth – 60 mm, and sash profiles – only 22 mm, thus making these constructions especially refined and elegant. ALU2 constructions have reasonable price, therefore are very popular.ALU3 balcony glazing system – this is three rails window construction which can have three or six openable window parts. System sash profiles have same refinety as in ALU2 system, but due to bigger 90 mm frame depth and rails number it is possible to produce bigger width balcony constructions. ALU3 glazed balcony constructions prices are slightly higher than ALU2, but in separate cases when wide glazed balcony is needed, their economic parameters are better.

Advantages of glazed balcony in aluminum constructions:– protection from harmful atmosphere influence;- protection from pollution;- good sound and heat isolation;- high hermetic features;- modern appearance;- additional protection;- longevity;- excellent quality and price ratio.