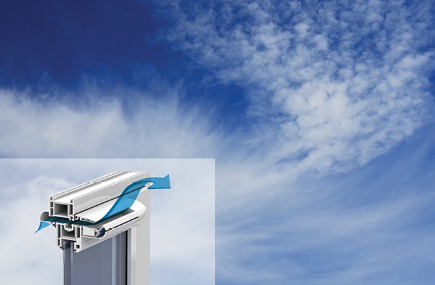 Many people spend more than 60% of their time inside the building during the day. Therefore, very important factor is ventilation. There are two main reasons why the room is needed to be ventilated:- for accumulation of material which are harmful to health;- to avoid wet air inside the building.
"Aveplast" can offer several types of vents and gradual micro ventilation system. They can be easily fitted to the "Aveplast" products (windows, doors, portal and etc.).
–
–
Gradual micro-ventilation system
Gradual micro-ventilation system works by turning the handle of window or balcony doors. There are few positions of ventilation that assure the different levels of ventilation in premises. This is an effective way to ensure the ventilation of the rooms without investing large amounts of money in the room ventilation measures.
Vents for PVC windows
"TwinAir" horizontal vents can be installed into PVC windows, both in tilt and turn windows and fixed windows. These vents are adjusted by hand. It's important to mention that "TwinAir" vents are integrated into a glass unit that are 24 mm width.
"Aereco", "Ventair" and "Diode" horizontal vents are milled into frame of PVC windows. Different amount of air can be injected into premises while adjusted by hand or adjusted automatically (when valve of the vent reacts to a strength of a wind or humidity). "Aereco", "Ventair" and "Diode" vents don't reduce PVC window light hole.