FutureART+ PVC windows and doors are combination of innovative solutions that gives opportunity to maintain A++ energy efficiency, perfect light transmission, sound insulation and exclusively good hermetic features. FutureART+ PVC windows and doors are perfect for buildings that are located in the areas where strong wind or heavy rain is common. Also, it is the practical decision for passive houses, because the quality of FutureART+ model is reached by using innovative solutions instead of using lots of expensive materials.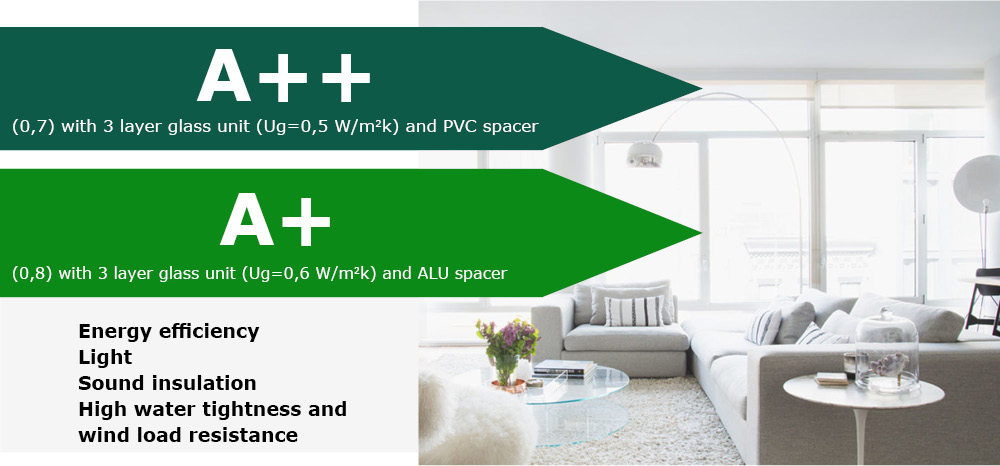 What you should know about FutureART+ model?
◆ The glass unit of this model is deepened into PVC profile 22 mm. Glass unit is made of 3 transparent glasses (two of them – low emission glass) with warm-edge spacer made of PVC between them. Also, there is additional seal in centre of glass unit. This innovative solution ensures hermetic features for FutureART+ PVC windows and doors.
◆ In the centre of FutureART+ window frame, there is additional feather-shape seal that insulates noise and ensures perfect thermal features.
◆ FutureART+ PVC has improved-safety bindings.
Products that can be made of FutureART+ model:
◆ PVC windows;
◆ Inward opening balcony doors;
◆ Sliding doors;
◆ Entrance doors.
–
–
Technical parameters
Standard complectation of FutureART+
Additionally you can order:
Profile
SALAMANDER bluEvolution 82 MD
–
Frame colour
White or one of "Standard", "NatureLine", "Special" colours on the outside and outside/inside.
"Standard", "NatureLine", "Special" colour from our colour palette.
Frame shape
Flat shape
–
Glazing beads
Flat shape
–
Rubber gaskets
Black colour rubber gaskets
–
UPVC frame width
82mm
–
Quantity of chambers in frame/ in sash
6/6
–
Steel reinforcement
Galvanized steel profiles
–
Glazing
◆ Made of 3 transparent glasses (width 48 mm), two of them – low emission glass;
◆ Gap filled with argon gas;
◆ 3 layer glass units with ornament, reflective, toned or frosted glasses.
◆ Glass mullion glued on the glass or inside of the glass.
◆ Warm-edge spacer Swisspacer made of PVC.
Seals
Three seals (one of them – "feather-shape"), increased thickness, chamber structure with increased sound insulation
–
Bindings
◆ Improved safety bindings SIEGENIA "Favorit SI-line" with anticorrosive cover "TitanSilber";
◆ Protection in lower corner at the side of the handle.
◆ Hinges with teflon hubs;
◆ With white or brown colour hinges cover.
◆ Binding fittings such as brake in handle;
◆ Anti-break-in bindings.
◆ Other colours hinges cover.
Ventilation
Micro-ventilation supplement
Ventilation supplements – gradual micro-ventilation, horizontal vents integrated into glass unit or milled into frame
Security
◆ Handle protection against wrong turning when sash is turned or tilted;
–
Handles
ALU turn/tilt window handle "Secustic New York", white or brown colour.
Small external handles and pins for balcony doors, lockable handles, colourful handles, handles with child safety functionality "Hoppe Kisi"