NordART PVC windows are specially designed for Scandinavian living traditions. Exclusivity of these outward-opening windows is the great characteristics in case of strong wind.
What you should know about NordART model?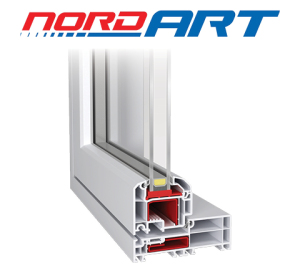 ◆ Because of the outward-opening NordART model is used even in very small areas.
◆ Wide window frame greatly reduce humidity and molds formation inside in the windows.
◆ This model PVC windows can be opened in several ways: Top swing, Top hung, Side hung, Slide side hung.
Products that can be made of NordART model:
◆ PVC windows.
–
–
–
Please click on the picture to see entire opening.
Technical parameters of outward opening PVC windows


Standard complectation of NordART
Additionally you can order:
Profile
Aluplast Nord-line
–
Frame colour
White
–
Frame shape
Rounded shape
–
Glazing beads
Rounded shape
Rounded shape in the case 3 layer glass unit is chosen
Rubber gaskets
Grey colour
–
UPVC frame width
120 mm (frame) / 70 mm(sash)
–
Quantity of chambers in frame/ in sash
5/4
–
Steel reinforcement
Galvanized steel profiles
–
Glazing
◆ Made of 2 transparent glasses, one of it – low emission glass;
◆ Gap filled with argon gas;
◆ With ALU frame
◆ 2 layer or 3 layer glass units with ornament, reflective, toned or frosted glasses.
◆ Warm-edge spacer made of PVC
◆ Glass mullion glued on the glass or inside of the glass.
Seals
One seal, increased thickness, chamber structure with increased sound insulation
–
Bindings
System PN beslag: Secured with anticorrosive cover.
–
Ventilation
Installed "Projecting Top Hung" intermediate opening additive
–
Handles
Steel, silver colour.
–
Please contact AVEPLAST manager for further information. We are always ready to consult and help!