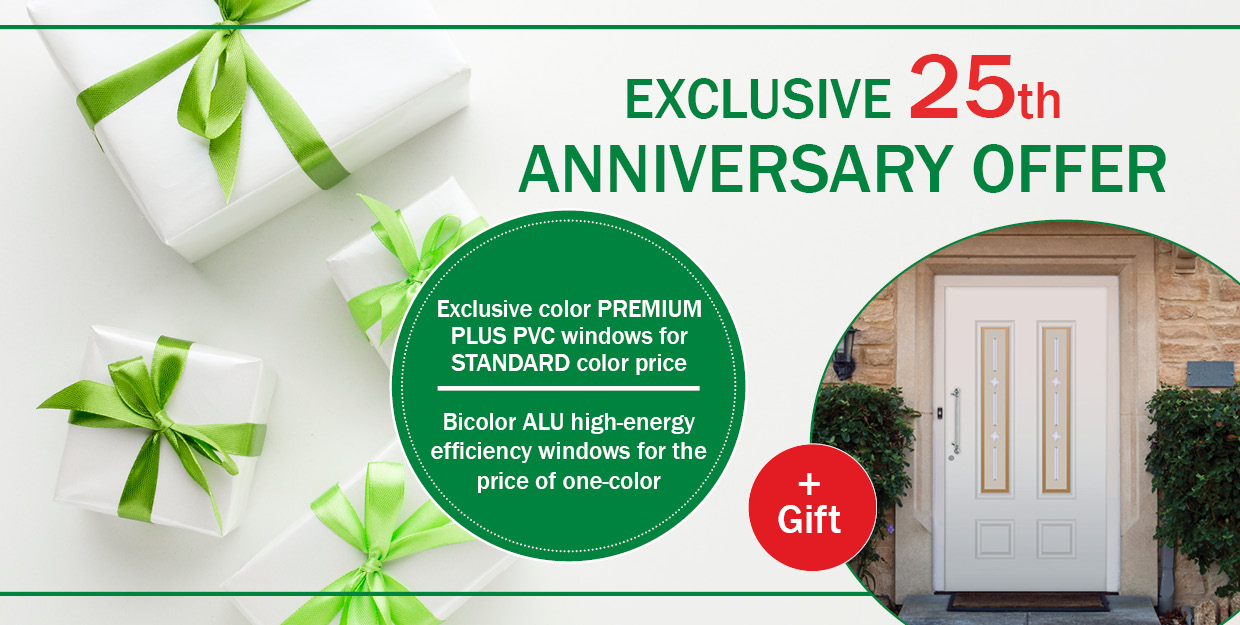 We are celebrating our 25th ANNIVERSARY! On this very special occasion, inspired by birthday mood, we have prepared two exclusive offers for you:
Exclusive color PREMIUM PLUS PVC windows for STANDARD color price (color palette ->https://www.aveplast.eu/colour-palette/)
Bicolor ALU high-energy efficiency windows SCAND / MasterLine8 / PE78N for the price of one-color.
In addition, the 25th anniversary offer includes an EXTRA GIFT from the promotion catalogue:
Decorative VEYNA PVC door panel. Applies for orders 20m2and more of PVC windows and/or doors;
Decorative VEYNA ALU door panel. Applies ordering ALU windows and/or doors:

Infill panel – for orders 20m2and more of constructions,
Single sided panel – for orders 30m2and more of constructions,
Double sided panel – for orders 40m2and more of constructions.
The value of a gift ranges from 390 EUR up to 1096 EUR. Which gift is yours?
You can find the promotion catalogue of VEYNA doors << here >>
The offer is valid:
Only for buyers of colored PVC or ALU windows;
To all our local and international clients;
To commercial offers from 07/07/2020 to 7/08/2020.
The offer is not valid for:
White PVC or ALU windows and doors;
Windows with double glazing or without glazing;
Windows and/or doors of different sides are in different colors;
Sliding or folding doors;
Curtain walls;
Other items on sale;
The offer is not valid for business partners purchasing windows and / or doors on wholesale terms and / or special prices and / or conditions.